Make a profit by breaking even! The price promotion methods of mother and baby stores you don't know are absolute!
2019-07-26 13:36:09
永创艺货架
  Price discount is the most direct and common method of promotion in mother-and-child stores, but price promotion is not simple as price reduction discount in a simple sense. There are many ways and knowledge in price discount. Here is a case study of promotion methods in mother-and-child stores with price discount as the main point on Yongchuang Art shelf.
  1. Delusional discount - giving customers a different feeling
  1. Promotion methods:
  "Things are cheaper, and the quality must be worse!" This is the common psychology of many customers when they face various discounts. And to eliminate the doubts in customers'minds, let them feel that in fact they have earned, and the quality has not declined.
  It is necessary to give customers an illusion that the products they buy are not discounted products, but original prices, but just the activities of the mother and child stores, which make a little profit for the customers.
  For example:
  "You can buy mother and baby products worth 150 yuan in our store for only 100 yuan!"
  "For 99 yuan, you can choose any item at the original price in our shop!"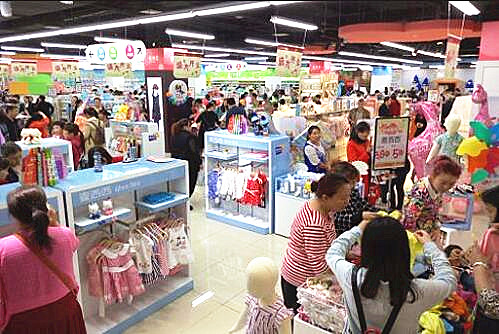 2. Practical cases:
  Pro-Angel Anyang Mother and Child Franchise launched a promotional program during an anniversary promotion campaign.
  "During the activity, customers who shop in our shop can buy 150 yuan worth of goods with 100 yuan. As long as they buy, the shop will give customers 50 yuan discount on the spot."
  As soon as the event came out, it attracted the attention of many parents. For a while, there were a lot of customers and sales soared during the event. After that, the surrounding shops have followed suit and achieved good results.
  3. Advantage analysis:
  The illusion discount is essentially a new way of discount, but it appears in an obscure way. Compared with the direct discount, it seems more artistic and more attractive to customers.
  For mother and baby stores, although illusion discount is also a kind of discount, but for code discount, it is more profitable and more affordable. In fact, it can be calculated that the actual profit of the illusion discount is slightly higher than that of the simple discount.
  In addition, the intuitive response of direct discount to customers is to sell at a reduced price, and the quality of goods may be problematic; while the illusion of discount can easily create an illusion of "the value of money increases", so the promotion effect is obvious.
  2. Time-limited discounts - let customers flock to
  1. Promotion methods:
  Time-limited discount is to let customers snap up mother and child products within a limited time and sell them at ultra-low preferential prices. The quantity of time-limited snap-up is limited, but sufficient passenger flow can bring more business opportunities.
  For example:
  "All maternal and infant products are discounted from 9:00 to 9:10 in the morning!"
  "During the opening of our store, from 9:00 a.m. to 17:00 p.m., all maternal and infant products are discounted at the same time!"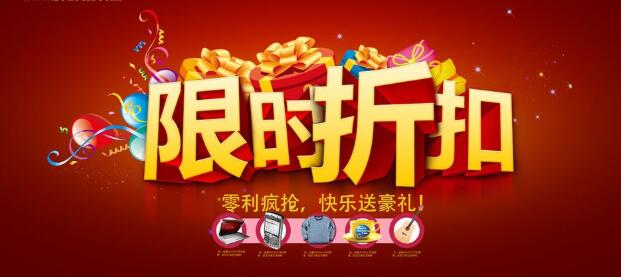 2. Practical cases:
  A supermarket has launched a new promotion model:
  "From 7 p.m. to 7:10 p.m., all goods will be discounted within 10 minutes."
  There was no effect on that day, but the next day a crowd of consumers came to the supermarket to queue up, during which the flow of people reached five times of the same period, the third day was close to 10 times of the flow, and the supermarket's sales in that month doubled five times.
  3. Advantage analysis:
  This kind of promotion seems to be losing money, but in fact, this move has brought a sharp rise in popularity and many potential customers to the mother-and-child stores. After the customers are attracted, the next step is to let the customers pay voluntarily.
  3. Excess Value Mono-the Promotion Strategy of Choosing Small for Big
  1. Promotion methods:
  Excess value of one yuan means that during the activity, customers can spend one yuan to buy a few pieces, dozens or even dozens of maternal and infant articles in peacetime. On the face of it, this one-dollar commodity does not make money, but through these commodities, shops attract a lot of traffic.
  For example:
  "All baby products under 15 yuan in our shop are 1 yuan, only 1 yuan!"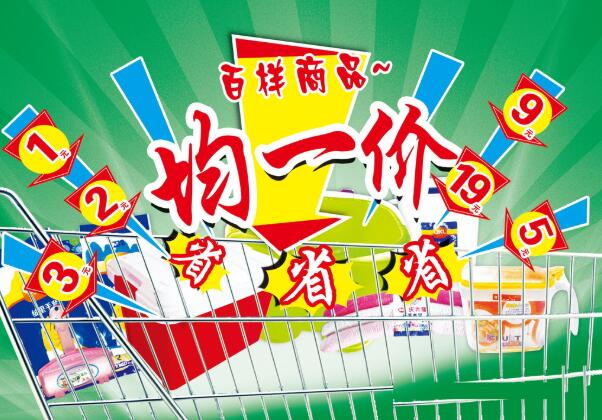 2. Practical cases:
  Mr. Bai, a pro-angel Shanxi franchisee, divides 35 items of baby products (cost is about 3-6 yuan) into 7 groups, each with 5 items, when there are no customers in the off-season. Seven days a week, one group a day, and the price of these baby products is only 1 yuan. At the same time, advertisements are posted:
  "35 items of infant daily necessities, only 1 yuan for sale, limited in quantity, will be sold out (one transaction per person for each commodity is limited to one purchase)。"
  In just two hours, the $1 commodity sold out on that day, and at the same time led a large number of consumers into the store to consume.
  3. Advantage analysis:
  In many cases, consumers do not really want to buy, rather than can not afford it. Through such promotional means, the sales volume of related maternal and infant products in supermarkets at a lower price can achieve a lot of benefits, and arouse consumers'desire for consumption.
  4. Critical Price: Customer's Visual Error
  1. Promotion methods:
  The so-called critical price is the price that gives people the first illusion visually and sensibly.
  For example:
  "With 100 yuan as the boundary, the price of maternal and infant products can be set to 99 yuan or 99.9 yuan."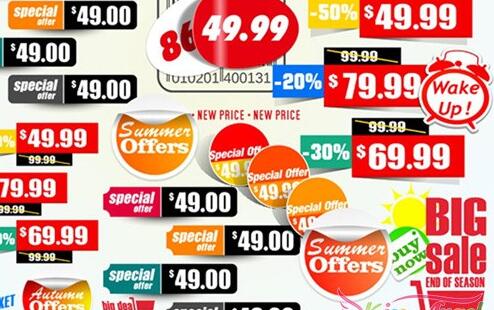 2. Actual case:
  This kind of promotion method has been used by supermarkets since a very early time, and now the mother and baby stores on the market are also widely used, and have tried repeatedly, such as 10 yuan to 9.9 yuan, 50 yuan to 49 yuan, and so on.
  The most important function of this critical price is to give the buyer a visual error. The product has not reached an online level, but only dozens or even a few pieces.
  3. Advantage analysis:
  With lower cost input, we can gain the audience's recognition, thus promoting ourselves. With more changes in the combination mode, we can attract customers in different ways and at different prices.
  Fifth, ladder price - let customers worry automatically:
  1. Promotion methods:
  The so-called ladder price is that the price of goods changes step by step with the passage of time.
  For example:
  "New products for mothers and infants are sold at 5% discount on the first day, 6% on the second day, 7% on the third day, 8% on the fourth day, 9% on the fifth day and the original price on the sixth day."
  "In the initial period of sales, the price will be reduced by 25% in 5-10 days, 50% in 10-15 days and 75% in 15-20 days."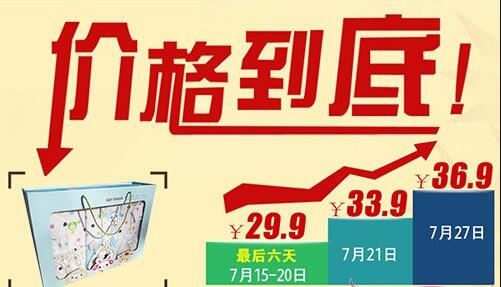 2. Practical cases:
  It started with a cake shop abroad. The owner made a discount on the cake that he couldn't sell every day for half of the original price on the second day, and basically sold out the cake the next day.
  Later, when Edward Fanning, an American businessman, learned about it, he came up with such an automatic price reduction promotion scheme.
  "In the initial period of sales, the price will be reduced by 25% in 5-10 days, 50% in 10-15 days and 75% in 15-20 days."
  On the surface, it seems to be a "risk-taking" plan, but because it grasps the customer's heart, for the shop, the customer is infinite, and the choice is very great. If the customer does not come, the customer will come; but for the customer, the choice is the only one, the competition is infinite, if you do not go, others will go, therefore. The final surrender must be the customer.
  3. Advantage analysis:
  This kind of promotion method will create a sense of urgency for customers, reduce buyers'hesitation time and urge them to buy impulsively. Of course, there are many ways of ladder, shop owners can be set according to their actual situation, the purpose is to attract customers and not let the store lose money.
  6. Reducing Prices and Increasing Discounts - Double Benefits for Customers
  1. Promotion methods:
  In fact, it is a combination of price reduction, discount and double benefits for a commodity.
  For example:
  "All customers who buy goods in our store can get 10 yuan off 100 yuan, and they can also enjoy a 20% discount!"
  If 100 yuan is discounted by 6 yuan, the profit will be lost by 40 yuan, but when 100 yuan is reduced by 10 yuan and then discounted by 8 yuan, the loss will be 28 yuan. But the dual benefits will induce more customers to sell.
  2. Practical cases:
  This combination of double preferences makes the promotion scheme of parent-angel mother-and-child franchise novel and incomparable. Compared with other mothers and babies stores that only implement promotion or discount, stores that implement this kind of promotion scheme are more dynamic and can mobilize the enthusiasm of customers.
  3. Advantage analysis:
  This kind of promotion method satisfies the customers'mentality of "seeking cheapness"; for mother and baby stores, it improves the motivation of promotion and reduces the cost of promotion.
  Yongchuangyi Warm Tip: The above are some methods of price promotion for mother-and-child stores. Mother-and-child Stores operators should innovatively use a variety of promotion methods, rather than just using a single promotion method.
  Please contact us if you need shop opening guidance and decoration design.